If you're new to the Church of the Epiphany, we want to welcome you to our Living Room Ministry (LRM) where we encourage one another to grow in Christ.
We believe everyone can connect with another in a personal way and grow spiritually. Lives are transformed in these small groups, where discipleship takes place best. Join us in the sessions as we grow in faith and love together.
This year we will be studying the topic of being an Obedient Christian.
Psalm 1:1–2

Blessed is the man who walks not in the counsel of the wicked, nor stands in the way of sinners, nor sits in the seat of scoffers; but his delight is in the law of the LORD, and on his law, he meditates day and night.
The LRM is conducted every 1st and 3rd Friday of each month at 7.45pm over ZOOM due to Covid-19 restrictions. Here we are learning about the 8 spokes that teach us how to be rooted in Christ. The lessons are conducted over 8 to 10 months and members will be given 12 memory verses to recite.
The 8 spokes discussed are,
God's Word
Prayer
Witnesses
Fellowship
Spiritual Life
Spiritual Gifts
Spiritual Worship
Spiritual Warfare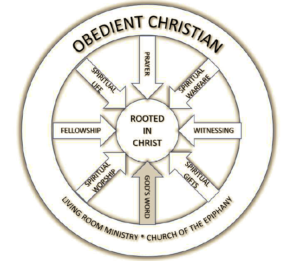 Come and be part of the LRM family!
Do call 6481 4358 or email us at admin@churchoftheepiphany.sg today!